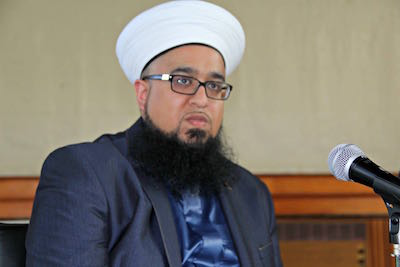 IMAM MUHAMMAD ZAHOOR CHISHTI
Imam Muhammad Zahoor Chishti enrolled into Jamia Al-Karam during its first decade of service in Milton Keynes. He is from amongst the generation of students who were with their teacher Shaykh Muhammad Imdad Hussain Pirzada during the time that Allaighty blessed Jamia Al-Karam with expansion and it movedfrom Milton Keynes to its present location at Eaton Hall in Retford in January 1995. This was a remarkable moment in the historic development of the institution and the success story of the British Muslim community as it saw the establishment of the Al-Karam Secondary School in April 1995 in Retford.
Imam Zahoor Chishti graduated in that same year in the summer of 1995 at the opening conference of the Eaton Hall campus chaired by the late Hazrat Zia-ul-Ummat, Justice Pir Muhammad Karam Shah al-Azhari (ra). Upon graduation from Jamia Al-Karam, he travelled to Pakistan and completed the intensive Hadith course, the 'Dawra-e Hadith', with Hazrat Zia-ul-Ummat (ra) and the senior teachers of the Dar al-'Ulum Muhammadia Ghausia Bhera Sharif, namely Shaykh-ul-Hadith Allama Khan Muhammad Noori and the late Qazi Muhammad Ayub. After graduating from Bhera Sharif in 1996 with the equivalent of MA in Islamic Studies & Arabic, Imam Zahoor Chishti travelled toEgypt where he studied in the Faculty of Theology at Al-Azhar University in Cairo. He returned to the UK in 1999 having completed, with an awarded Certificate of Distinction, the set Arabic Language & Literature Programme of the Ministry of Education. Upon his return to the UK, Imam Zahoor Chishti pursued further education and training in various fields including ICT courses, the Certificate of Teaching & Learning and the Certificate of the International English Speaking Board from the Oldham College in Greater Manchester.
In addition, from 1999 onwards, Imam Zahoor Chishti has pursued a long and blessed journey in serving the Muslim and wider communities through teaching, lecturing, educational leadership, as well as Imam and Khatib roles in various mosques and Islamic centres in Oldham, Manchester, Halifax, Blackburn and Rochdale. For seventeen years, he has continued to travel the length and breadth of the country delivering talks, speeches, seminars and workshops. He has had the honour of accompanying his teacher, Shaykh Pirzada, to many national conferences. He is able to communicate in English, Urdu, Punjabi and Arabic. In 2001, he was bestowed with Ijazah in the spiritual path of the Naqshbandi Tariqah by Hazrat Pir Jahanzeb Badshah, the great-grandson of Khwaja Muhammad Qasim of Mohra Sharif.
At present, Imam Zahoor Chishti serves as the Senior Imam and Principal at the Madina Mosque & Islamic Centre.